Madmaxer/iStock/Getty Images Plus
Just when we thought we were out of the weeds and ready to swing into 2022, Mr. Putin threw another wrench into the mix that led to rising energy costs, especially for petroleum-based products. . But we have to move on, keeping this additional cost factor in mind.
Right away, I planned to go over here what I knew I would learn at the Independent Equipment Dealers Association (IEDA) annual meeting in Orlando, as speakers were going to discuss the 2022 construction markets. , as well as changes they should make when dealing with contractors in the future. And wow, what a program! Anyone connected to the construction industry would have taken away ideas on how to improve profitability while dealing with:
Inflation
Supply chain issues
Labor requirements
Rising interest rates
Cap-X Plans
Maintenance issues
Technology to manage contractor activities
Some of you reading this list think these issues don't apply to you. If that's what you think, you're 100% wrong. You are wrong because the construction industry realizes that it has been on the wrong side of the productivity equation for the past 100 years and is now taking steps to reduce costs while becoming more efficient. Just read the ForConstructionPros.com Headline News daily e-newsletter if you don't believe me.
Stick to what you do best
Tom Christerson, Sales Manager at EquipmentWatch, started the IEDA meeting with an example of what to expect in the market. He summarized a study that showed contractor input costs increased by 25% to 29% in 2021, with hopes to stay at that level for some time. As part of the study, a group of contractors received plans for non-residential structures to be built in 2022. Participants were invited to submit bids for these projects, which they did with an average increase costs of 13%.
All of the contractors who have bid have done so at levels well below their cost, and I suspect they can do so if they find ways to cut costs and get the job done faster than they expected would normally do. In other words, they should do more with less material costs, less equipment costs, and less labor costs. Hence the title of this month's column, which proclaims that improving your productivity is not just an idea to ponder but a must!
In other words, contractors must tighten the ship from bow to stern. Easy to say but hard to do. Summarizing what I have learned from IEDA activities and the key point to help improve productivity: do what you do best and let someone else do the rest.
Offload internal transactions that are not essential to deliver your work product. These transactions could include:
manage equipment costs and associated maintenance
office and billing procedures that could be improved by improving the use of your current system or finding a new, more efficient one
forecast the cost of ownership and operating costs of owned equipment
purchase material costs and ensure they are delivered in a timely manner
ensure you have enough experienced staff to do the job in a timely manner
Equipment costs now represent between 20% and 30% of a project; they were around 13% to 15%. The American Rental Association predicts another surge in rental activity (see www.ForConstructionPros.com/22068755). Their penetration index – percentage of rental equipment compared to all equipment used in construction – is close to 60%. I expect that number to continue to grow as contractors understand that owning equipment is not a profitable proposition.
What I see is that great contractors are striving to find ways to be up to 40% more efficient by using new systems to manage workflow, equipment usage, employee costs and material costs. The systems are there, and if you add to outsourcing what others can do better, the more efficient you will become.
Cost control
Since I was one of the presenters at the IEDA meeting, my goal was to educate equipment dealers about the game-changing changes taking place within their customer base and what those customers can expect from them in the future. After all, if entrepreneurs need to cut costs, they expect their suppliers to do the same and help them achieve their goals. For my part, I have asked dealers to absorb the cost of owning and operating equipment in terms of owned equipment or rental units.
As part of my presentation, I've put together a slide to demonstrate how productivity improvements can increase profits. I compared a 10% increase in billing to a 5% decrease in labor cost and equipment cost. The change is significant.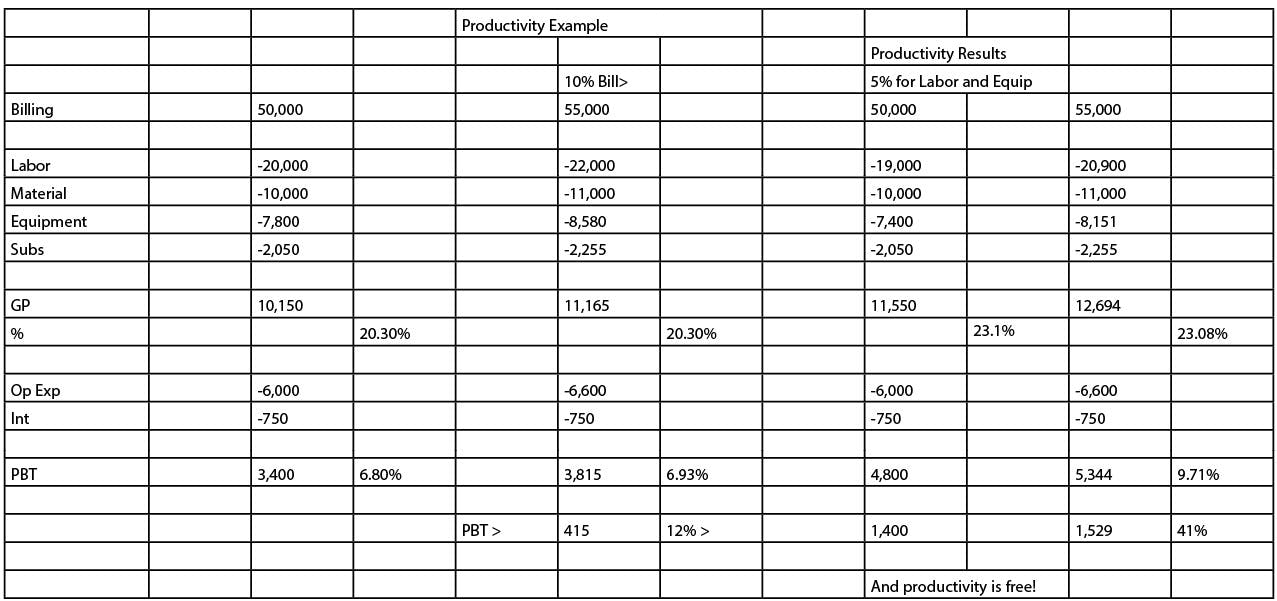 Garry BarteckiI would ask you to ensure that you pass current costs on to your billing and lock in your current interest rates. Review your costs of owning and operating your equipment. And please study the technology that can help you become more proficient. If you're considering making a Cap-X investment, make it a technology investment.
By the way, the title of my presentation was "Making It Through 202 ???" That says it all.
Garry Bartecki is a Managing Member of GB Financial Services LLP and a consultant to the Independent Equipment Dealers Association. He can be reached at (708) 347-9109 or [email protected]